Open trench or excavation is still the most economical form of construction in many installation & construction projects and cannot be avoided in many cases. Hand digging in sensitive locations, back hoe operation and front end trenching gives a well rounded options list for the services required.
Training is essential for our staff on all existing industry standards and manufacturer's suggested standards for placement of copper & fiber and phone system architectures as well as proper labeling and testing procedures.
Open trenching can be performed quickly and efficiently with the use of trenchers and or mini excavators. This method is often used in more rural areas and in right of ways where other utilities are not an issue. We are able to open trench and restore up to 3000' to 4000' a day with the use of this machinery.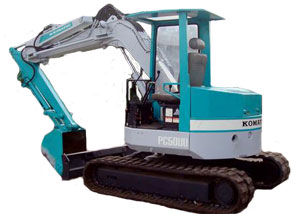 Komatsu PC50UU
Komatsu mini excavators provide minimal tail swing in a compact format to facilitate urban construction, pipe-laying, gardening, and more. They are perfect for working in tight spaces. The engines run hydraulic pumps that provide the powerful, smooth motion of the bucket. Komatsu excavators range in weight from 1,985 pounds to 279,159 pounds.
The work equipment of an excavator is similar to a human arm, enabling an operator to maneuver the machine just like moving his/her own arm. In addition, replacing a bucket with various attachments enables a wider range of work, such as breaking rocks, lifting or grabbing an object. The blade at the foot of the excavator can doze soil and level the ground.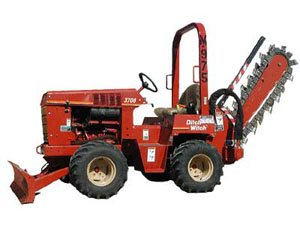 Ditch Witch 3700 Trencher
Providing high performance in a compact package, the Ditch Witch 3700 features a superior hydrostatic digging drive designed for open-cut installation of water, sewer, gas and power lines. This is an excellent choice for rental yards, utility companies and utility contractors, especially for jobs with a restricted working area.